Does your solar system need repairs?
Did you get a rude shock on your electricity bill only to find it was an extra $500 compared to what it should have been?
More than likely your solar inverter needs replacing. We are now getting so many calls from customers who have either a dead solar inverter with an error or panels that just no longer work and are getting water inside them.
We hope that the solar power company you purchased your solar system from a few years ago is still in business. However, given our knowledge of the solar industry, we are not surprised if the scumbags have gone under and have left your solar inverter warranty worthless.

Did you then go for a walk to check your solar inverter?
Damn, your solar inverter has a red light? After a further inspection you now see an error code displayed on the LCD screen!
Was that error code an 'isolation fault' on the solar inverter screen? 
If it was, click here to read about the isolation fault error display on your solar inverter – It might be something far more sinister than just your solar inverter needs replacing.
More than likely your solar inverter has just died! It's now time to replace your solar inverter.

We Replace Solar inverters in Brisbane all the time
Queensland Solar & Lighting are currently doing around 1-5 Solar inverter replacements per week. We replace more solar inverters in Summer than in Winter. This would happen as the inverters are running hotter in the hotter months. This causes them to overheat and stress. Solar inverters like to be as cool as possible.
Is it worth repairing a broken solar inverter?
No. By the time you pay an electrician to pull the old inverter off the wall, send it to someone who can fix the inverter, and have an electrician re-install the inverter you have saved a few hundred dollars at most. You are then left with an inverter that is usually still out of warranty. I have heard of some inverter repairers giving a measly 3 or 6-month guarantee on their work. We've all heard the old, "A poor man pays twice".

Solar inverter Warranty Support
If you can't get through to a solar inverter Manufacturers office in Australia, it's more than likely they've gone belly-up, along with your solar retailer who sold you the system. Unfortunately, you've just got to buy a new inverter.
Why do Solar inverters show errors?
Solar inverters will usually show an error code to let you know that there is something wrong. You can ring us up with the error code and we can let you know what it means and waht you can then do about it.
It is quite obvious as to why many solar inverter Manufacturers instruct not to install solar power inverters in the North-facing sun. Some solar panel inverter manufacturers refuse to honour the warranty if their solar inverter was installed in direct North facing sun. It's a known fact that the sun and heat kill the solar inverters.
If you think that your panels are nearly ready to 'give up the ghost' as well, you could see what solar system packages we are currently offering. Sometimes replacing the whole system is the best thing to do as cheap Chinse panels ultimately fail.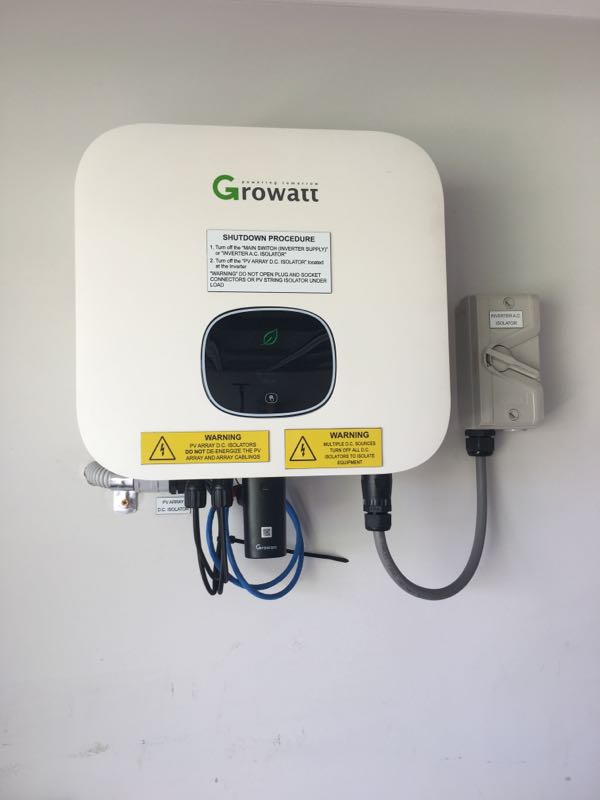 You can find the list of current approved solar inverters here.
We replace many different Solar inverter brands
The usual suspects are,
SunnyRoo (you're inverter is SunnyRooted)
Aerosharp
Sharp
Growatt (before they were good)
SMA
SunGrow
SolaX
Litto
Goodwe
Solis
Clenergy
Bosch
Trannergy
Delta Solivia
Samil Solar River
Solar Inverter replacement prices in Brisbane
All inverter pricing below includes GST. The price represents your existing solar inverter taken off the wall, new inverter installed, and old inverter being taken away.
Replacement solar inverter prices below are for a good quality Single-phase Chinese inverter. Either a Sungrow, Growatt, or Delta inverter would be recommended. Most inverters offer a 10-year warranty as standard now.
If you would rather have a more expensive European-made inverter or a price on 3 phase inverter, please call 0756363692 or email us.
| | |
| --- | --- |
| Inverter Size | Replacement Solar Inverter Price Installed in Brisbane |
| 1.5kw | $1100 |
| 2kw | $1200 |
| 3kw | $1300 |
| 4kw | $1400 |
| 5kw | $1500 |
| 10kw – 3 phase | $2500 |